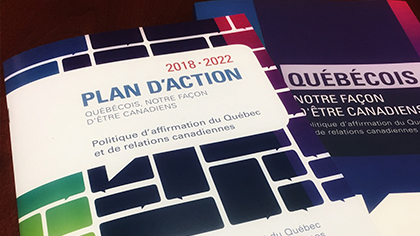 Québec City, August 1st, 2018 – Proposals for projects to support bilateral, multilateral and pan-Canadian activities involving civil society organizations in Québec and the other Canadian provinces and territories can now be submitted under the new Canadian Relations Support Program launched by the Secrétariat du Québec aux relations canadiennes (SQRC). Civil society organizations in Québec and elsewhere in Canada are invited to submit their projects immediately.
Expertise exchange component
Under this component of the Program, projects must contribute to the transfer and sharing of expertise between Québec and the other provinces and territories. Assistance can be provided for organisations working in all spheres of society, such as the scientific, social, cultural and economic sectors, that wish to organize activities involving exchanges between experts in Québec and Canada. For example, the activities may target participation by Québec experts in symposiums, conferences, forums, and workshops in Canada. Organizations outside Québec that wish to benefit from the innovative practices of organizations or specialists in Québec are also eligible. Projects may be submitted at any time during the year.
Citizen dialogue component
The main objective of this component is to support the organization of activities that promote exchange and dialogue between citizens in Québec and elsewhere in Canada. The activities targeted include, for example, summer schools, forums, conferences, debates and workshops. This component also supports the creation of pan-Canadian structures and networks for collaboration and exchange. A call for projects is currently open.
While the Program reflects the SQRC's mission to promote Québec's vision of federalism and its specificity throughout Canada, it also expands the scope of existing programs, namely the Research Support Program and Canadian Francophonie support programs. Over the longer term, the projects supported will help ensure that Québec is better known and better understood, increase the opportunities for dialogue and discussion between communities in Canada, and promote the dissemination of Québec's expertise.
Quotes:
"With the creation of this new program, the SQRC is taking another step to implement the Policy on Québec Affirmation and Canadian Relations and its 2018-2022 action plan. The Program will help strengthen the dialogue initiated by the Government of Québec, in particular between civil society in Québec and elsewhere in Canada. It will also help stimulate cohabitation in Canada both now and in the future by promoting exchange, dialogue and stronger mutual understanding between Quebecers and other Canadians."
Jean-Marc Fournier, Québec's Minister responsible for Canadian Relations and the Canadian Francophonie
Highlights:
The creation of the Canadian Relations Support Program is part of the implementation of the third orientation from the 2018-2022 action plan under the Policy on Québec Affirmation and Canadian Relations, which aims to promote exchange between citizens and civil society groups in Québec and elsewhere in Canada.
Projects can be submitted for the Expertise exchange component at any time during the year.
A call for projects under the Citizen dialogue component is currently under way for projects to establish or strengthen pan-Canadian structures or networks or organize activities to stimulate discussion about cohabitation in Canada. Organizations have until September 16, 2018 to submit their projects.
Projects selected for the Program may receive assistance for 80% of eligible expenditure, up to a limit of $75,000 per project.
Links:
Canadian Relations Support Program (PARC)
Appel de projets – volet Citizen dialogue (PARC)
Canadian Francophonie support programs